How To Hack Rummy Culture: Best Tips For You To Make You Win
Table of content:
Games are a great source of entertainment but in today's busy times, they have also become a means of earning. App developers and software companies are constantly discovering new and improved ways of earning money and they hit the jackpot when they made it possible for us to earn while we play.
Worried about the risk include in the real money gaming apps? We have got your back here!
Play the exclusive range of real-money games and challenging contests online with GetMega. Download the GetMega app now!
There are many types of gaming apps but the most beneficial ones are those that support casino games. One such exciting app is Rummy Culture. It has been gaining a reputation rapidly among its competitors and inviting more and more players every day.
While the app is super fun and offers variety, it may seem a little difficult to navigate. That's why we have put together all the points that you need to know in order to make money from the app. We will discuss how to hack RummyCulture so you can make more money than you anticipated.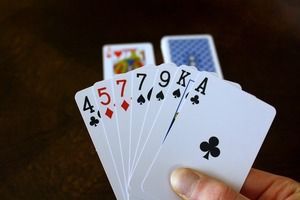 The Rummy Culture app is a Rummy game app that is available online, 24 hours a day, 7 days a week. Much like most Rummy apps, RummyCulture allows you to win money from playing games all day and defeating your opponents.
People are always looking for ways on how to hack Rummy Culture. The thing is Rummy Culture app has several offers and promotions ongoing at all times. The app upholds extreme security to the point of using only secure payment methods to deposit cash in your Rummy Culture wallet and withdrawing from it as well.
One interesting thing about RummyCulture is that not only can you partake in cash games and tournaments but you also have an option to play practice games. This helps improve your skills before you hit the tables. We will tell you all about how to hack Rummy Culture using this feature and several Rummy Culture hacks.

Learn to master the game Rummy without even spending a Penny.
In order to use the Rummy Culture app to make money and know-how to hack RummyCulture legally, you need to start by downloading the app from the official website. There are options available for both iOS users and Android users. If you don't want to download the app, simply install the website link on your browser.
You will have to register on the app or website using your email ID and mobile number, so the app can send all the important communications such as OTP, offers, etc. Once you finish the registration process, you will have to deposit a sum of money, which is easy if you use UPI, debit card, credit card, or net banking. Upon completing your first deposit, you will receive an additional Rs. 5250 as a signup bonus. Using the aggregated amount of cash in your RummyCulture wallet, you can start playing cash games and participating in tournaments, and that's where the answer to how to win money in Rummy Culture lies.
If you are not accustomed to playing Rummy or need a little practice before you invest your hard-earned money, you can always start with practice games that are free of cost. This is an excellent Rummy Culture hack because you get to practice your skills beforehand. Once you feel like you have developed good strategies and can defeat your opponents to earn more cash than you lose, you can switch over to partake in cash games and tournaments.
If you want to know how to hack RummyCulture and earn cash, the answer is you need to win the games to earn and the amount will be credited to your Rummy Culture wallet instantly. Play as many cash games as you want throughout the day and keep stacking up cash in your account.
The gameplay on Rummy Culture is pretty much the same as any Rummy game. You will be given 13 cards and you need to make sequences and sets with them. The objective is to finish making your sets before everyone else. When you do that, the other players are penalized with points based on the values of the cards they are holding. The point vs cash ratio is predetermined so the players will have to pay that much to the winner.
We have excellent RummyCulture tips and tricks that you can use to your advantage while playing the game. They will certainly escalate your chances of earning more money quickly and effortlessly.
Placeholder for Automated Banner
If you like playing rammy calchar, we sure have some useful Rummy Culture hacks for you. However, before we proceed, we want to clarify that RummyCulture hacks do not pertain to using unlawful applications and software developments. What it means is we will discuss how to hack Rummy Culture using legitimate in-app RummyCulture tricks. These are ways of using the app to its full potential in order to improve your chances of making money.
Without further ado, here rummyculture hack are:
Rummy Culture has a feature wherein you get 30% bonus cash every time you deposit a sum of money. So, you can start by depositing the minimum amount needed and repeat the process. This way, you can start playing high-stakes games without having to put up the whole amount and if you lose, your losses are controlled.
Regardless of whether you are a beginner or a professional in Rummy games, start with the Practice rounds. Every app has its own way of handling the game, layout, submissions, and payouts. The free, practice games are an excellent way to learn how the Rummy game is played on Rummy Culture.
Wear out the referral code. rummy culture download does reward you handsomely for successful referrals so try to get as many people as possible to play the game. This is an excellent RummyCulture hack trick since it rewards you with practically free money. Ideally, if you share it with a hundred contacts, only one or two will join, so keep your chances high by sharing it with everyone.
Play the cash games throughout the day. Not only will it help you earn more but you will come across different players with different strategies. If you face one or more of the same players during the tournament, you will know how they play. It will help you modify your strategies accordingly.
While Rummy does require more concentration on your own cards than the opponents, it is also a great idea to delay your opponents. Keep an eye out for which cards they pick up from the discard pile. That way, you can block their sequences till the very end so they throw away the cards that you need. Think about it a little.
Since we are discussing how to hack Rummy Culture or rummy culture tricks, there is one real hack that you can use. It is the two-account method wherein you can use one of the accounts to support the other when they are floundering. For instance, if you spent some time at the table and learned how your opponents are playing, devised a strategy, but lost a lot of money before the epiphany, then join the same table with another account from another device. To use our RummyCulture hacks and tricks successfully, lose the game purposely by collecting high-value cards and paying to yourself when your first account wins. This way you can continue at the same table without having to deposit more money and buy into the game again. This is particularly helpful in tournament games.
When you win a chunk of cash, withdraw it immediately. You will get your money plus the 30% extra and when you deposit again, you'll earn another additional 30% on your deposit.
Rummy Culture is a nice app to play the classic card game. It may seem a little difficult to follow these RummyCulture tricks and win, so we also have a winning strategy that you can employ during gameplay to simplify and escalate the earning potential.
Placeholder for Comparison Banner (Just replace the level 1 slug in data-competitor)
We have the best trick to win in Rummy Culture using the hacks we talked about. Now, for the much-awaited Rummyculture tricks that will help you win more:
Learn the game. Use the practice games to familiarize yourself with all the rules for making sets and sequences.
Play the practice games with a timer beside you and a predetermined number of moves for exchanging your cards.
Know when to fold the game. If the cards dealt with you do not have at least two separate sets of two consecutive cards in the same suit, quit and wait for the next round.
Organize your cards by suits and then alternate the colors so your subconscious can process the information quickly.
Focus on making pure sequences as many as you can.
If the high-value cards in your hand are not making pure sequences, discard them right away.
The best way to win Rummy Culture is by changing your sets and sequences based on the likelihood of cards available. Just because you have two deuces in your hand doesn't mean you have to make a set with them. It is much more likely that you can make runs with numbers between 5 and 10 so hold on to those.
Use the jokers, never throw them away. Complete your sets with jokers instead of waiting for viable cards.
When you are finished, check your cards and sets before you submit them. In games like points Rummy, submitting an incorrect set will cost you more money.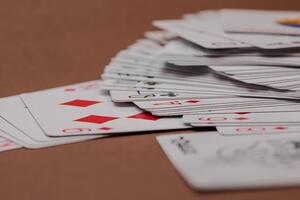 We hope that these specific RummyCulture hacks will help you beat your opponents efficiently and you end up winning a lot of money. Although, we do have another alternative for you, so keep reading.
Placeholder for Automated Banner
There is an incredible gaming site called GetMega(best rummy app for real money) where you can play casino games such as Rummy or play rummy with real cash and Poker and win more money. Even though Rummy Culture has a fine system, GetMega is better and here's why:
This site offers a variety of games. So, if at any point you lose interest or get bored of playing Rummy, you can switch to other casino games like Poker. If you want a more relaxing option, you can even opt for casual games like Pool, Carrom, or go even more basic with Fruit Kaat, Warship, Dot and Dash, etc.
You can earn from answering trivia questions too.
There are numerous cash games in every category, so you can practice and develop your skills.
They host several tournaments and contests where you can earn tremendous sums of money.
You only play against genuine people with verified accounts. Therefore, there are no bots, scams, or frauds on GetMega.
They offer a substantial signup bonus and referral bonus. If you accumulate the cash you receive for each success, the amount will be enough to get you started.
It is easier to invite people to GetMega and earn money because the platform has diverse games that appeal to different people.
You can learn how to play new games on GetMega. All the rules, guidelines, and strategies are available on the site itself to help you out.
You can play with beginners and amateurs as well as learn new strategies from professionals.
They have specialized paid leaderboards in which keeping up your rank consistently among the top 10 players can help you earn more cash rewards, goodies, and other exciting prizes, including gold coins and mobile phones.
GetMega is an amazing site where you can play to earn money. The user-friendly interface accommodates the needs of everybody without causing any hassle or language barrier.
Players who use GetMega say that they started as a side hustle but it soon became their primary source of income. Not only can you play and earn but GetMega will inspire you to become a professional gamer in your own rights.
GetMega app is a famous and well known app to play exciting games in one stop. Download the app now! With 10,000+ daily players on the app, you can win up-to Rs 1,00,000 everyday.
03 June 2022 | June
This article is authored by Rohan Mathawan, who is presently working as the Vice President of Media Sales and Operations at Techstory Media. Rohan started his career as an online gaming and technology content writer and has written more than 5000+ articles for reputed brands and companies like Techstory Media, MarketingCrap, and a few other ad agencies in the last 4 years. Rohan loves to read about online gaming during his pastime. His passion to create content about online gaming drive him to dive deep into the research of the topic and the result is a highly relevant and captivating piece of content that is appreciated by his readers.
Learnt something new ?
Try your skills with
real Poker
Players
+5,604
What Our 
Players Feel
I have tried almost all of their games & I really like their Card games. One thing I can say say that if you want to win big, practicing matters. Took some time to study Poker and Rummy, but now I am winning about ₹75,000 a month.
21 January, 2021
I had no idea Rummy could be so much fun, yet easy to learn. I also regularly play Poker on GetMega. Playing games is fun, but playing with real stakes is so much more exciting
4 January, 2021
Playing games with real stakes & real people is so much more exciting than playing alone. What makes GetMega special is that I know I am playing against real profiles - now I can play without worrying about trolls, bots or fraud.
2 February, 2021
I have tried almost all of their games & I really like their Card games. One thing I can say say that if you want to win big, practicing matters. Took some time to study Poker and Rummy, but now I am winning about ₹75,000 a month.
21 January, 2021
I had no idea Rummy could be so much fun, yet easy to learn. I also regularly play Poker on GetMega. Playing games is fun, but playing with real stakes is so much more exciting
4 January, 2021
Playing games with real stakes & real people is so much more exciting than playing alone. What makes GetMega special is that I know I am playing against real profiles - now I can play without worrying about trolls, bots or fraud.
2 February, 2021